Meet the standard, exceed expectations
Compliance Assured
In keeping with our ongoing commitment to research and development coupled with our ongoing rigorous testing procedures we confirm the compliance of logicwall® fibre cement permanent formwork with the National Construction Code (NCC) and its suitability for use in the design of a concrete structure.
The below information details testing undertaken and performance achieved. Contact us to talk to our team of in-house design experts who can assist you with further technical advice, engineering concepts, training or guidance in relation to your specific application or project.
CodeMark® Certification
Download Certificate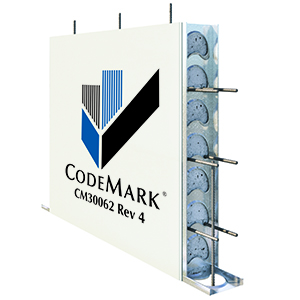 CodeMark® is a third-party building product certification scheme that authorises the use of new and innovative products in specified circumstances in order to facilitate compliance with Volumes One and Two of the NCC, also known as the Building Code of Australia or BCA.
A detailed CodeMark Certificate of Conformity is issued for meeting the 'evidence of suitability' requirements of NCC2019 Amendment 1. AFS Logicwall® has achieved CodeMark Certification confirming:
Structural (AS3600), durability, fire resistance, non-combustibility, weatherproofing, thermal and acoustic performance
Compliance of end-to-end process, from manufacture through to installation
Quality control
Structural (AS3600)
AFS Logicwall® is deemed suitable use as a structural, load bearing reinforced concrete wall in accordance with (AS3600-2018) Concrete Structures Code.
Fire Compliance
Logicwall® has been Deemed-to-Satisfy non-combustible for both internal and external applications.
Compliance to National Construction Code (NCC)
Deemed-to-satisfy – C1.9 9(a)(b)(d)(e iv) – Non Combustible Building Element
Logicwall® is confirmed as a deemed-to-satisfy non-combustible building element covering the fibre cement formwork boards, steel stud framework, adhesive concrete and reinforcement steel bars.
Logicwall® has been fire tested to:
AS5637.1 (ISO 9705 Room TEA) (CSR Cemintel® Fibre Cement Sheet)
* Acheived Group Number = 1
* SMOGRA = 0.2 (<100m2/kg)
AS1530.3 Fire Hazard Properties (CSR Cemintel® Fibre Cement Sheet)
* Ignitability index = 0
* Spread of flame index = 0
* Heat evolved index = 0
* Smoke developed index = 1
FRL (Fire Resistance Level) Performance
AS1530.4 FRL (for the wall system)
AFS Logicwall®       Max. FRL
LW 120                   240/240/180
LW 150                   240/240/180
LW 162                   240/240/240
LW 200                   240/240/240
LW 262                   240/240/240
Durability Performance
Expert Opinion confirms Logicwall® meets the durability requirements of AS3600.
External Expert Opinion Summary   Download PDF
Internal Durability Report                   Download PDF
Acoustic Performance
Expert testing undertaken by Acoustic Logic.
AFS Logicwall®
LW 120                   Download PDF
LW 150                   Download PDF
LW 162                   Download PDF
LW 200                   Download PDF
(bare walls only)
Mould and Mildew Performance
CSR Cemintel® fibre-cement products are manufactured in accordance with AS/NZ 2908.2 for us as interior and exterior wall and floor linings. They are included in the BCA Deemed-to-Satisfy provisions for these applications.
CSR Cemintel® Performance Statement  Download PDF
Weatherproof Performance
Download Certificate
Opinion on the weatherproofing aspects as a wall system based on the results of a test carried out by CSIRO in accordance with the verification methods FV1 & V2.2.1 (weatherproofing) of NCC.
Stay updated with the latest news, projects, case studies and more.